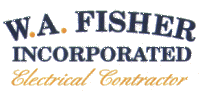 "integrity, quality, and innovation."
PO Box 79

Lottsburg, Va. 22511

Tel: 804-529-6692

Fax: 804-529-6693
Welcome, you are the [an error occurred while processing this directive] person to access this web page

We are Electrical Contractors specializing in Commercial and Industrial Projects, Computerized System Automation, design and control.
Your Key to The Best in Electrical Contracting!
Here at W. A. Fisher Inc. service to our customers is paramount. We are proud of our quick response time and our diagnostic capabilities.
| | |
| --- | --- |
| Not sure what is required, or what the latest technology is? Let our design- build consultants walk you through the process, using their experience and knowledge to solve problems and provide answers. Our electrical staff ensure the latest code and safety compliance | |
| | Our employees are production oriented and we all share in a common commitment to achieve the highest level of workmanship possible through education, coordination determination. |
Links

Electric Power Research Institute
Additional Professional Activities

Commercial
Office buildouts (new and existing installations)
Warehouse, office complex installations
Retail store buildouts in malls and free standing locations
Fire alarm systems (installation and certification)
Restaurant and food service installations
Banks and hospital facility installations
Fire Alarm Systems
Voice and Data wiring
UPS/Computer room installations
Lightning protection and surge suppression systems


Industrial
Supply and installation of power distributions systems
All types of transformer installations
Mercury , HID and fluorescent lighting design and installations
Machinery and equipment installations
Conveyor systems electrical installations
Explosion proof electrical installations (all classes)
Motor controls installations

Parking lot lighting and signs
Parking lot lighting installation, maintenance or upgrade
Fluorescent sign service

Our Motto: Value Given For Value Paid
We strive to maintain the best in quality, customer service, and value.
We value your business, and will make every effort to provide you with
the systems you need, in the time you need them.
The Blueprint for our Company
Productive Ideas
Commitment
Effective results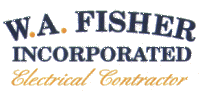 "integrity, quality, and innovation."
PO Box 79

Lottsburg, Va. 22511

Tel: 804-529-6692

Fax: 804-529-6693